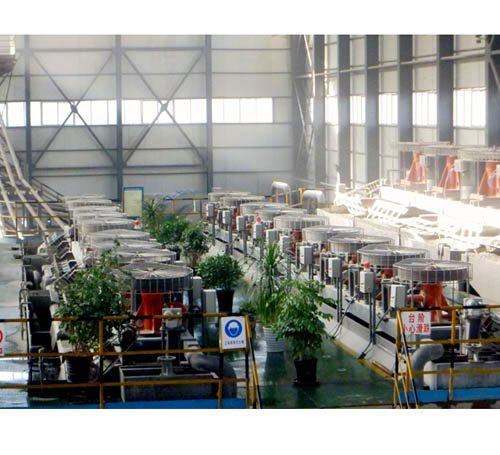 Technological difficulty: molybdenum entrainment in cooper concentrate, during copper molybdenum separation test, because of high copper low molybdenum and talc and other clay minerals entrainment, result in copper and molybdenum separation effect is poor, no molybdenum concentrate products.
Solution: by cooperatively using CK adsorption stripping agent and CD flocculation depressant, effectively inhibit talc, mica and other easy-floating gangue; (2) In the technology, make concentration and select discharge of a tailing, discharge the gangue minerals which are activated in the roughing process as soon as possible, to avoid the disrupting the flotation process; middlings centralized return, restrain and throw away as earlier as possible, let the gangue minerals discharged to the tailing.
Result: Copper and molybdenum mixed concentrate containing Cu 35.62%, Mo 1.14%, through the closed-circuit test can get molybdenum concentrate containing Mo 51.02%, containing Cu 0.43%, molybdenum recovery rate of 90.34%; copper concentrate containing Cu 36.35% , containing Mo 0.11% , copper recovery rate of 99.976% of the mineral processing indicators.
Please feel free to give your inquiry in the form below.